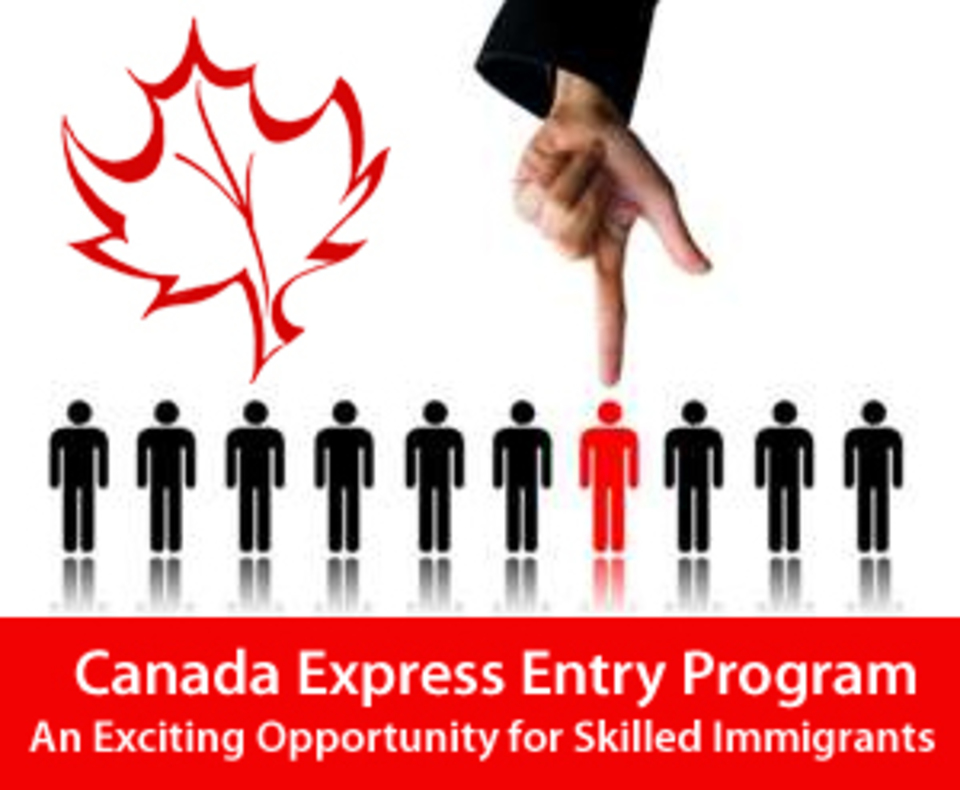 Express Entry Process
Express Entry (EE) is an online immigration application system. It allows people to submit a profile and be considered as a skilled immigrant. Candidates with the highest rankings are invited to apply for permanent residency. If you fill out a profile for Express Entry, your application will be ranked according to a points system.
If you are highly ranked, you will be invited to apply for permanent residence as a skilled immigrant.
Once you have applied, your PR application will then be processed within the next 6 months.
Express Entry manages applications for three economic immigration programs:
Federal Skilled Worker Program
Federal Skilled Trades Program
Canadian Experience Class
Express Entry Process
You must first:
Find out if you meet the basic requirements
reate an online EE Profile and make sure you have your:

Passport
National Occupation Classification (NOC)
Education credential assessment report
Recent language tests:

International English Language Testing System (IELTS)
Canadian English Language Proficiency Index Program (CELPIP) and/or
Test d'Evaluation de Français (TEF)

Canadian job offer (If you have one); and
Provincial Nomination (If you have one)

Receive a CRS (Comprehensive Ranking System) score out a possible 1,200 points
Get an Invitation to Apply (ITA) if you score high enough on the CRS. An ITA means you can apply for permanent residence in Canada:

Please note that the score needed to apply for permanent residence changes for each draw. Even if you do not qualify for a specific draw, you still remain in the pool for one year.

Pay an application fee and a Right of Permanent Residence Fee
Provide Proof of Funds to show you can support your family
Provide Police Certificates
Prepare for a medical exam from certified health professionals and
Contact previous employers to provide job letters to prove you have valid work experience
Please note that if you have a Canadian job offer, your future employer may need to provide you with an LMIA.
Comprehensive Ranking System
Applicants are ranked on a system called the Comprehensive Ranking System (CRS), which determines who gets selected from the Express Entry Pool first. This system scores you based on four main factors:
Human Capital Factors
Spouse and Common Law Partner
Skill Transferability and
Additional Factors
These factors take into account:
Age
Work experience
Education qualifications
Language skills
Adaptability
Job offers and
Spouse or common-law partner
The higher applicant's scores on the CRS, the better their chances of becoming a permanent resident of Canada. The highest you can score on this system is 1,200 points.
There are several ways to improve your CRS scores, like receiving a Provincial Nomination that adds an extra 600 points. Canadian job offers are also worth 50-600 Points. For example, a job offer from a level 00 job under the National Occupation Classification (NOC) will give you an additional 200 points. Any other job level offer from a Canadian employer will give you an additional 50 points. But a job offer under a Labour Market Impact Assessment (LMIA) will give 600 CRS points.
Another way to increase your score is through Core Human Capital Factors (600 Points) This awards points for education qualifications like certificates, diplomas and degrees. The higher your educational qualifications, the better the score you will receive.
If you apply with your spouse or common-law partner it can also help increase your score, if they have the correct work experience and educational background. Having more work experience can also have an impact on CRS results.
Language skills are a great way to increase CRS scores. The higher applicants score on recognized French and English test like IELTS, TEF and CELPIP, the better the results. In total, language skills can add an extra 150 points.
Free online assessment
We are pleased to speak with you to discuss your qualifications and options, Contact Toady!
Join students over 1000+ like you
"Thanks to the friendly student visa, I was able to fill an application and receive a student visa in Canada! I didn't believe that it could be so easy. Thank you endlessly TIIS Canada! "
Ravinder P Singh
"I warmly recommend Target International for my visa applications. Through them I completed my application and got my visa. I now on my way to Canada! "
Hamid S
"TIIS lead me through the application process and I applied for the Skilled Worker Program with Express Entry. I was accepted quickly and I am so grateful to TIIS Canada. "
Jyoti K